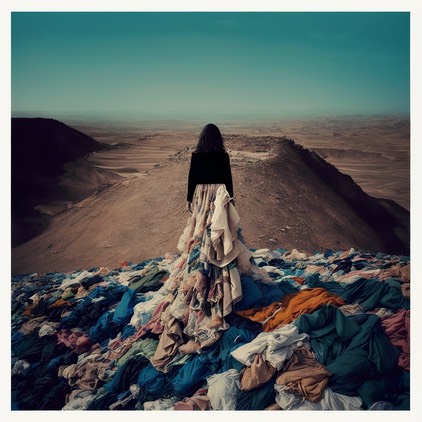 "Self Portrait in a landfill'  M. Lockwood
contact: melissa@iqtest-nyc.com
Melissa Lockwood is an interdisciplinary artist and design science researcher. She has been analyzing the fashion industry's system of massive disposal of factory waste fabrics.
Through her research she has created collections of garments made with factory waste fabrics and salvaged fashion industry fabrics.
Melissa Lockwood's collections are based on regenerative design and ways to change a wasteful system in the fashion industry to a regenerative system.
Through her research she discovered that designers can avoid creating factory waste fabrics by designing into the waste pattern areas and applying radial geometry to the multiple same shape pieces created during mass production.
By analyzing the waste areas before production and including it in the designing of garments and accessories the fabric can be utilized and kept out of the landfills.
Melissa's work has been shown Internationally in galleries, on runaways in print and online. She works to invent and convey ways the fashion industry can lessen its environmental impact..